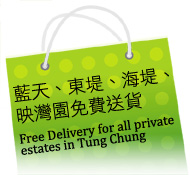 歡迎到我們的 Facebook
瀏覽最新的推廣詳情:
SINCE Feb 23, 2011




關於幅射的聲明和資料:
Disclaimer & Information Concerning Radiation

聲明:近日流傳一種非官方說法,就是在日本311地震後,有關幅射污染經空氣已吹到美國,因此來自美國甚至加拿大的產品不能用。 我們的產品全都是以DHL由美國西岸空運到港的,就此,我們已去信詢問DHL,而DHL亦已回覆稱他們這航道的飛機在正常情況下不會中途停日本。 至於是否來自美國的產品不能用,因我們所提供的是代購服務,不會對此負上任何責任,請各客戶自行決定。

Recently, there are some non-official sayings which claim that goods from the US and Canada are contaminated after the 311 earthquake in Japan. Since all our products are from US and are shipped to us via DHL, we have written to DHL and has been given the following reply:

The flights from United States to Hongkong will not stop in Japan and if in any case if it is required to stop in Japan, DHL would take care of the shipment against the radiation leak."

Also, please note that we are merely providing product-ordering service and therefore will not be responsible anyhow to the quality or effectiveness of the items. As for whether goods from US is still good for you, please kindly decide for yourself. Thanks.


---
以下此發放的資料僅供大家參考。好些為英文資料,恕未能提供翻譯版本。
The information & data provided below are for reference only
---

Introduction

The concern is originated from the recent popular sayings online concerning the unpublicized forcast information of NILU (Norwegian Institute for Air Research) such as the following:

* Please Click Here

Opinions of what these graphs mean can now be found all over the internet:

* Please Click Here (search results for "zardoz.nilu")


---

August 2011
澳洲 CBS 的節目:
福島的輻射現在正影響每一個人:
這個「不能說」的秘密「將影響全人類」

Fukushima Now Radiating Everyone: 'Unspeakable' Reality 'Will Impact All Of Humanity'



以下網站提供部份中文翻譯:
---

7 June 2011

We've written to various manufacturers asking if they possess any objective mechanism which proves the otherwise and that using products provided by them is safe. Here are some responses:

* * *

NOW Science & Nutrition Group

Whenever and where ever material is received there is little concern for consumers for irradiation due to our extensive inhouse testing capability. (See attached)

* * *

Garden of Life

Thank you for your email and interest in Garden of Life's products. At Garden of Life, our thoughts and sympathy go out to the people of Japan, especially to the families directly affected by the recent earthquake and the ensuing devastation caused by the tsunami. Like the rest of the world, we also watch the emerging nuclear situation with grave concern.

With regard to Garden of Life's nutritional supplements, we source a limited number of select materials from Japan. Fortunately, our suppliers confirm that their raw materials and manufacturing facilities are located far to the South of the Island, and not at all in proximity to Sendai in the North where the struggles toward recovery continue. Despite their location, they and the government of Japan continue to test and monitor all nutritional products and manufacturing facilities prior to export for any potential contaminants. In addition, all imported lots from Japan are subject to additional testing by the US EPA, USDA and US Customs agencies prior to being cleared on US soil.

Our contract manufacturers assure us that upon receipt of our raw materials, they again perform relevant tests to ensure all materials utilized in our formulas remain unaffected by this Japanese crisis, as well as ensuring that these materials continue to meet our exacting standards for quality and potency.

Based on all of our quality and supply chain responses, we feel comfortable that the limited number of Japanese raw materials used in certain products of ours, are being thoroughly tested and that proper safeguards are in place to ensure the integrity of these materials. The U.S. Customs/EPA is also expected to take preventative measures by scanning inbound containers from overseas for contamination.

Please visit our website for further details about our Quality program: http://www.gardenoflife.com/OurCompany/GoodManufacturingPractices/tabid/1977/Default.aspx

* * *

Earthrise

Thank you for contacting Earthrise Nutritionals, the world's #1 manufacturer of Spirulina grown here in California.

As per your inquiry, please find the attached statement from our Chief Technology Officer, Dr Amha Belay, PhD.

We understand your concern and we would like to assure you of the safety of our products.

Should you have any questions or comments, please feel free to contact me.

(See Attachment)

* * *

Earthrise - 2nd reply

Thank you for your reply and further concerns.

I have looked at the link you have provided and understand that if this is indeed true, it may be concerning for anyone.

I have forwarded your email to our Chief Technology Officer for review. However, we are not able to inform you of any further action based on this information.

I will let you know if there are any further notice. Thank you

* * *

New Chapter

Thank you for your inquiry and for your interest in New Chapter supplements. We are happy to inform you that New Chapter is registered as a GMP compliant site by NSF International. We follow all GMP (Good Manufacturing Practices) protocols of compliance for dietary supplements as mandated in 21 CFR part 111 and NSF/ANSI Standard 173 Section 8. This can also be confirmed by going to www.NSF.org. New Chapter and its co-processors are certified to the standards of the USDA's National Organic Program (NOP), as well as, in certain instances, the International Federation of Organic Agricultural Movements (IFOAM) and the European Organic Standard (EEC 2092/91). We are currently operating under the FDA's guidelines as mandated in 21 CFR for the food industry Parts 100 – 169.

Please be assured that New Chapter is in compliance with all regulatory standards to confirm our products are safe. New Chapter cannot answer questions regarding radiation levels across North America or products that are shipped by air. We can suggest contacting the EPA regarding your concerns, as they are a U.S. regulatory agency that monitors public safety regarding radiation levels: http://www.epa.gov/.

We hope you find this information helpful.

* * *


8 July 2011

Replies From Barlean's

REPLY 1

Thank you for contacting us.

At the present time we are unaware of any factual, scientific information that deems all of North America is polluted by radiation coming from the Japan reactors.

If you have some scientific information sources, could you please forward them to us. The burden of proof should be on those who have brought the reports of serious contamination and we are willing to look at those if you can provide a link.

Our suppliers and growers are not alarmed and assure us that our seed supply as well as our fish supply line is completely safe. We are certified by various organizations, one of which is IFOS (International Fish Oil Standards) and they have not issued any sort of warnings, etc to us or any other company regarding the purity of our fish oil products in regard to contaminants from these reactors. I am also not aware that any certifier has deemed it necessary to check all products for radiation from these reactors.

As always, we are concerned about purity of our products and will continue to use third party labs and adhere to the current standards we have in place. Thank you for taking the time to contact us and I will check out any scientific info that you send to me.

I hope this information helps.

* * * * *

REPLY 2

Thank you for the response! I will look into your link today and talk to our team about it.

We source nothing from Japan. Nothing from our greens comes from there and everything in our current stock was harvested pre-earthquake, for sure. The pre-quake stock should be on the market until the end of this year.(Dried ingredients have a long shelf life.) By the way, our greens will be upgraded to an even more organic formula later this year and two new greens formulas will be coming out as well.

The Olive Leaves for the Olive Leaf Complex are all grown in one place about 60 miles inland from the Queensland coast of Australia. Very traceable.

None of the fish we use for our fish oils comes from the fishing area that is most affected by this disaster. The small bodied fish are caught off the coast of Peru in the very cold Antarctic stream currents and the larger fish we use - the cod and salmon - are caught in the North Atlantic near Norway.

Thank you again for taking the time to share the link with us!

* * * * *

REPLY 3

At first glance, I see no credentials here---who has the monitoring equipment that produced these maps? I am seeing info on this site posted back in May but nothing more current. I would need to see the actual scientific entity that is reporting the high levels of radiation. If only once source is saying this and it is not a scientific entity that is respected in the scientific community, then it looks like some sort of conspiracy theory or fear-encouraging effort.

Can you help with any knowledge of the actual recognized scientific source that is saying the contamination is high? I find it pretty hard to accept that only one place is reporting the truth about radiation.

* * * * *

REPLY 4

Yes, I went to the NILU site and found nothing to suggest any concerns over the incident now---however within Japan there is plenty of concern and rightly so. I am not convinced, myself, that there is not any great threat to many other places due to the Japan incident. I did see that Australia is checking all newly arriving cars that were manufactured in Japan for radiation levels and is finding none. Interesting.

The oil we are encapsulating and bottling now came in before the quake---and our suppliers are very on top of the situation we have contacted them and they are monitoring fishing areas and we are also members of the Global Organization for EPA/DHA and they have issued no warning of any kind but are certainly a watchdog group who would react if they thought it was necessary.

I will try to get an update from them as well.

* * * * *

REPLY 5

We make the oil and sliced flax from seed that is delivered to us by our growers do not know the harvest dates on what we are using now, but since the first harvest of the year is late summer I would certainly believe we are still receiving seed from the last harvest. Our organic certifiers are very careful and again, there have been no warnings or concern of any kind from them.


---

15 Sep 2011

Real Time EPA RadNet Japan Nuclear Radiation Monitoring For Every Major City In The Entire US On A Single Page
* Please Click Here


---


---

Radiation ; Disclaimer ;